Many people have started to work from home after discovering that it was completely possible. The main problem is that with today's modern home configuration, there is often very little room for office space. Every square foot of the home is taken up with furniture and has a use, so installing an office space means that it will be "in your face" or completely invasive. When both people in a relationship each need their own space, extra difficulties come into play with space issues.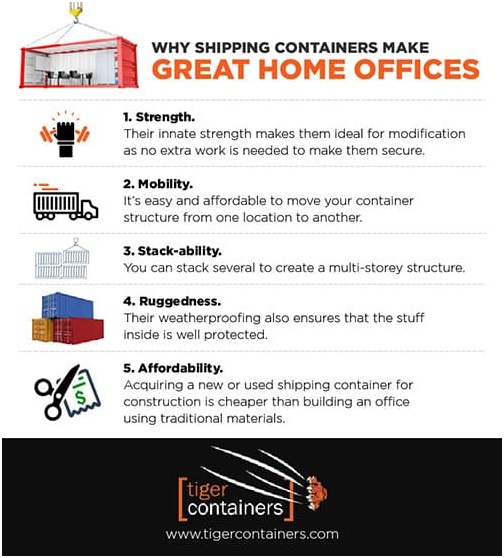 Having a separate space for an office is the most desirable option, but not everyone has the funds to renovate their home to include an addition. It is not ideal to have a home office in a bedroom, and this is often what people are left with once the other partner has taken over the spare room or the living space.
It is really difficult to have a conference call in a space where other people live without distraction and background noise. The importance of a space that is both removed and quiet is very important when it comes to running a business or working from home for a company.
There is another great option and that is to have a shipping container placed in the back-yard space which can be easily improved at an affordable cost to create an office space. All that is needed is for the person to decide on the size of shipping container that they need and then, after delivery and placement, decide on how it will be connected and eventually upgraded. Most shipping containers do not take a lot of time and money to improve and are available in a wide range of sizes to suit anyone's needs.
Some shipping container service companies will deliver the container with many of the improvements already installed, all one needs to do is check in and ask. Most shipping containers reach the end of their life span once they land in a port and their freight has been removed. Rather than get rid of the container and send it for scrap metal, these containers can find new life in a wide range of uses. An office in the backyard seems unlikely but is quickly becoming a trend among those who need the space.
A quick search on Pinterest also reveals a lot of great plans that you can easily install and incorporate on your own. It may be necessary to install some simple wiring, but if you really do not want to have an extra expense, a few extension cords may do the trick.  Shipping container construction is extremely affordable and is available at a fraction of the cost of conventional construction situations. Shipping containers are produced in massive quantities and are simple to acquire used. Containers are structurally solid and definitely watertight, so you do not have to be concerned about leaks.
The modifications that you make will be quite simple including adding interior walls and insulation and writing, if needed. You can then move your office furniture into the unit and get your office up and running in a matter of days. Many home and garden shows depict a variety of great uses for shipping containers and a home office is just one of those.
Sections of the container can be cut away and glass installed to provide more light and a deck on the exterior. Flooring options are available that look similar to high end products such as wood floor but in reality, are vinyl tile and will resist moisture. Finally, the container can be connected to the electrical supply of the main home if desired.  If one cannot afford this right away, the option previously discussed of running electrical cords is perfect for the time being until funds come available.
From start to finish, the installation of a shipping container office generally can take around two weeks.  Once completed, the new space is perfect for office work and being able to hold meetings in private. Additionally, paperwork that was previously stacked around the house due to space shortages will magically disappear and you can resume using your home as a home.
Whether you have just started working from home or have been doing it for some time now, the option of having a shipping container office is a good one.  If you need inspiration, a search online of various social media sites will give you a starting point and many great ideas. Tiger Containers has a wide range of shipping containers available in a variety of sizes. Get in touch with them today to find out how they can deliver and place your container in your backyard, and you can get started with your home office installation very quickly.